Custom Glock 

Stippling California

Our core objective is to make your firearms useful and aesthetically beautiful at a reasonable price. At Angel City Armory, we pay special attention to providing the finest possible customer service and addressing the unique demands of virtually every client. Each polish, cut, and the pattern is painstakingly executed by hand along with machines. In our industry, certain businesses rely entirely on machines for their convenience. However, that way, you sacrifice subtle characteristics such as contoured, curved, and rounded undercut edges.

Top-notch machines coupled with handwork ensure the ultimate level of quality end-result, which is how we go about Glock stippling. Besides, we will never attempt to sell you something that you do not require or that we do not use. For added accessibility, each package can be customized to match the specific requirements of the purchaser. If you have a special request, please feel free to contact us via email. We will be pleased to address any inquiries you may have. We make every possible effort to respond to all emails and inquiries at our earliest.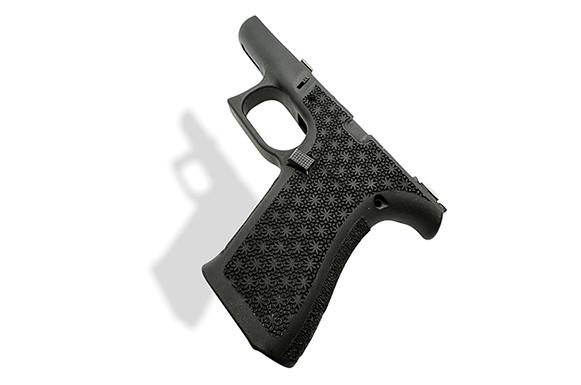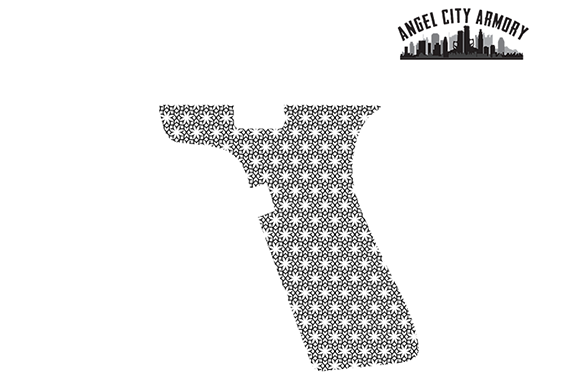 Benefits Of

Gun Stippling

Stippling can be used to improve a gun's aesthetics, grip, or both. Stippling's use stems from its ability to significantly improve your grip on your rifle, especially under bad conditions where your hands may be sticky with perspiration, dirt, or even blood. A more secure grip equals improved control and recoil management, and effective recoil management results in faster, more accurate follow-up shots.

While the Glock laser stippling may seem simple at the onset, the real job is not. Stippling cannot be rushed because it requires meticulous attention to detail, strong focus, and a great deal of hard work. Allowing professionals like us to handle this for you is your best bet to prevent making a mistake and damaging your gun along the way.
THIS PISTOL HAS BEEN MODIFIED BY ANGEL
CITY ARMORY
This product is not manufactured, authorized, endorsed,
or warranted by GLOCK. GLOCK does not warrant or represent that
this product is compatible with GLOCK pistols.
"GLOCK" is a federally registered trademark of GLOCK,
Inc. and is one of many trademarks registered by GLOCK, Inc. and GLOCK
Ges.m.b.H. Neither Angel City Armory, nor this site are affiliated in any
manner with, or otherwise endorsed by, GLOCK, Inc. or GLOCK
Ges.m.b.H. The use of "GLOCK" on this page is merely to advertise the
sale of GLOCK pistols, parts, or components. For additional genuine
GLOCK, Inc. and GLOCK Ges.m.b.H products and parts visit
www.glock.com.